According to FADA, because of lockdowns in different parts of the nation automobiles deals down by over 50 percent as against April 2021. Total Vehicle Retails for the month of May 2021 fell by -54.79% the previous month and -70.69% when compared to May'19.
All categories on monthly saw bloodbath as 2W, 3W, PV, Tractor and CV fell by -53%, -76%, -59%, -57% and -66%. Overall demand recovery to be slow as rural markets still struggle with post covid effects.
FADA thanked all OEMs which have announced a financial package for Auto Dealers and once again appeals to all those, who are yet to announce a similar financial package like last year.
FADA also requested the Prime Minister to instruct RBI to grant a moratorium for Auto Dealers and release guidelines for relaxation of loan repayment equivalent to several days of lockdown each state has been declaring.
About Federation of Automobile Dealers Associations (FADA):
Founded in 1964, the Federation of Automobile Dealers Associations (FADA), is a national top organization The automobile Retail Industry in India makes sales, service, and 2/3 wheel drive, passenger cars, UV, Commercial Vehicles (including buses and trucks), and Tractors.
FADA India represents over 15,000 car dealers with 26,500 stores including many associations of car dealers at Regional, Government, and city levels represent the entire Automated Marketing Industry. Together they employ ~4 million people in retail outlets and in service centers.
FADA India, at the same time actively working with industry and authorities, both in Central and state standards to include its proposals for Auto Policy, Taxation, Vehicle Registration Procedure, Road Safety, and Clean Environment, etc. to sustain the growth of Automobile Retail Trade in India.
The first nine days of June saw a far better start than expected because of the confined demand. At this pace, June'21 may cause almost equivalent sales when compared to June'20.
Comment by FADA President, Mr. Vinesh Gulati:
The 2nd wave of covid has left the entire country devastated as there might not be one household that didn't get affected. Apart from urban markets, this time, even rural areas were badly hit.
May saw continued lockdown in most of the states. Auto Retail for the month witnessed a bloodbath as sales fell by -55% on a monthly basis. Similarly, all categories of vehicles fell by a huge degree with two-wheelers falling by -53%, three-wheelers by -76%, passenger vehicles by -59%, Tractors by -57%, and Commercial vehicles by -66% respectively.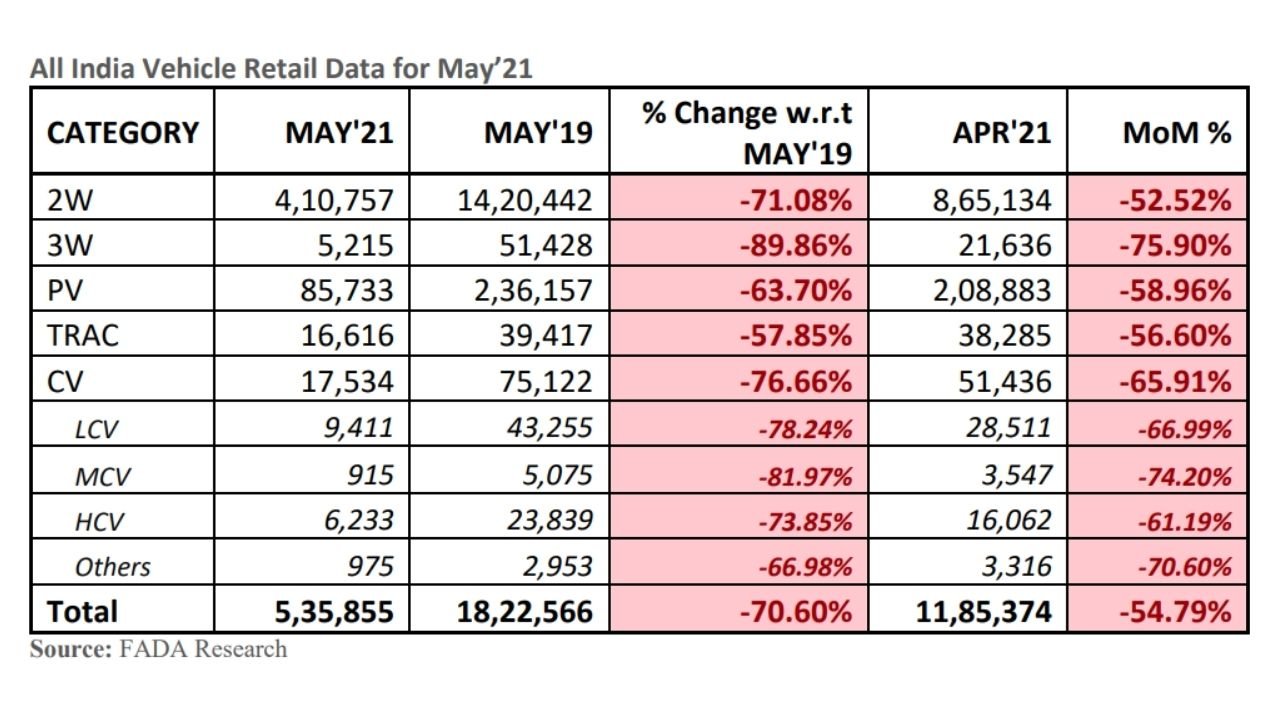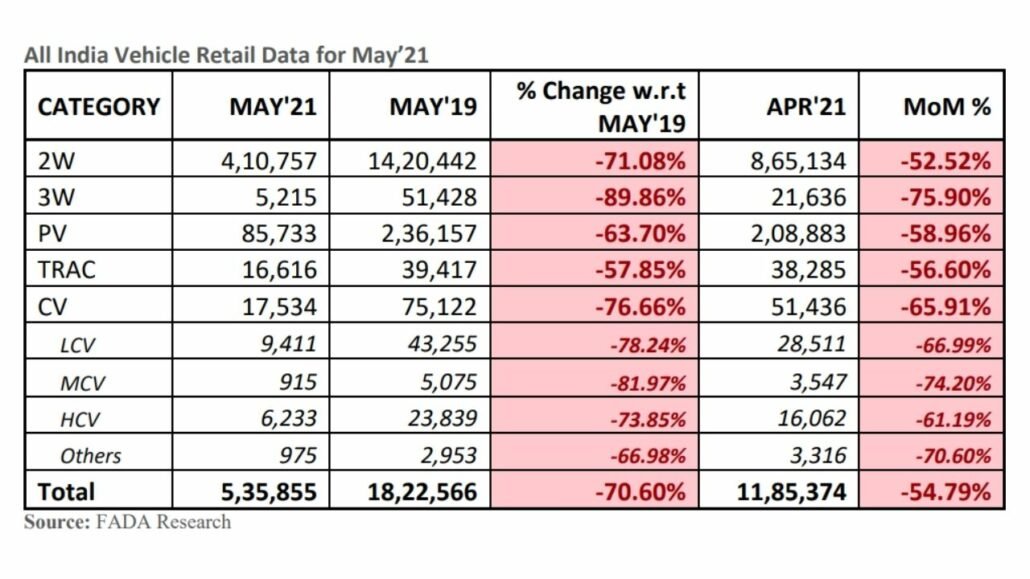 Auto Retail society direly needs support. While a handful of Original Equipment Manufacturer (Tata Motors–CV, Renault, Bharat Benz, and Honda motorcycle and scooter India) have announced financial help to their channel partners, others are yet to do so. Hence, FADA humbly requests all those OEMs which have still not announced any financial help to kindly do it urgently.
FADA also appeals to the Honourable Prime Minister that rather than restructuring banks should allow a moratorium of 90 days to all or any categories of dealers without keeping a turnover limit. It required this as Auto Retail Trade works on the principle where dealers get funded from Financial Institutes in terms of inventory funding for 30-45 days (depending from bank to bank) to purchase vehicles from Auto OEMs.
Since the present lockdown has already lasted overflow 30-45 days and remains continuing in South India, revenue for many of the Dealers is negligible as there were minimal sales. Because of this, dealers cannot repay their loan tranche payment which is getting due. This will ultimately lead towards default. Since there are not any guidelines, they consider an extension of the tranche as restructuring of the loan. This will ultimately have a negative impact on Dealers credit score as their Credit Information Bureau (India) Limited rating will get affected.