Bluecat : We may think that paper is cheap, but it costs many trees to create paper. Paper comes at a price for planet Earth. Paper is generally produced from the pulp, which needs the sawing of timber and removal of bark.
Environmental activist Mandy Haggith, in her book Paper Trails: From Trees to Trash – The True Cost of Paper, writes: "The paper industry consumes 42% of all the wood felled industrially each year and its share of the world's cleared forest is a section of about three million hectares annually."
Blue Cat Paper
But Kayva Madappa's Bluecat paper, a Bangalore based start up is producing 'Tree-free' and 'Zero-waste' paper, striving towards our sustainable future. The three main aims of Bluecat are to save trees, conserve water and reduce waste.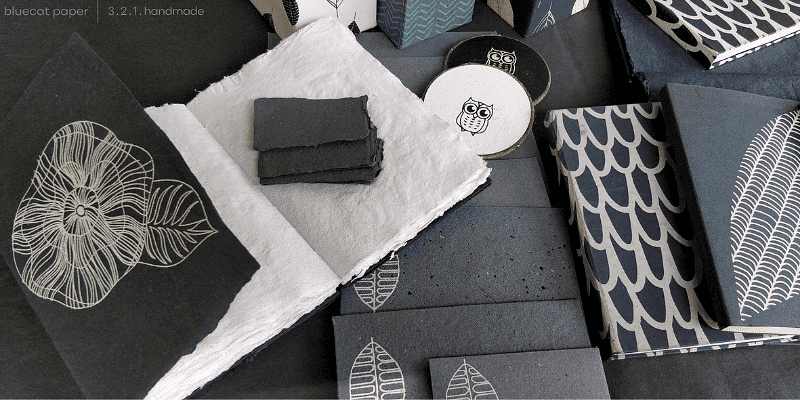 Organisation: Bluecat
Founder: Kavya Madappa from Coorg, Karnataka.
Founded in a year: 2018
Location: Bangalore, India
Products: Envelopes, stationery, gift wrap and tags, bags, gift hampers, lights, home decor e.t.c.,
services: custom packaging, Invitations, event decor, wedding cards, screen printing etc.,
Website: https://bluecatpaper.com/

Instead of wood pulp, Bluecat Paper uses cotton, linen rags, coffee husk, banana fibre, mulberry, corn husk and flax fibre among other things to create paper.
Kavya says, "All paper is made from trees, but we are able to create paper from anything that has cellulose. At Bluecat paper, we make tree-free paper from secondary waste that piles up in our cities. The paper is also handmade and as we dont not add any chemicals, the paper is also natural in colour."
The Bluecat Paper factory is located in the industrial estate of Peenya in Bengaluru. They acquire raw material from in and around textile industries within the vicinity of Peenya where cotton rags and other items are easily available.
Waste Reduction
The team also talks to farmers, and ask them to send their waste. "The main sources for our waste are textile companies in India. Used cloth is utilized within the process of making handmade sheets of paper." she says.
Banana plantations and mulberry are grown within the radius of 40 km near the factory. "This makes it easy to transport residual waste that farmers provide to the warehouse and also it helps Bluecat keep its costs down. we create beautiful products from waste",says Kavya.
Water conservation
Another major factor in paper production is conserving water. Bluecat has Effluent Treatment Plant (ETP), which recycles water and hence can be utilized again in production. As the factory don't make use of any chemicals, they are able to recycle water easily and save over 1 lakh litres of water each day as explained by Kavya. Hence making their paper Eco-friendly.
Awards and Recognition
Bluecat paper is awarded with 'Ultimate Software Award for Best Workplace Culture'.
Bluecat also won 'Best Workplace in Technology'.
Bluecat is also named as 'Best Workplace for Mental Health a year ago'.