Nowadays, women like Suchi Mukherjee proved that they can do things on par with men promoting gender equality. Even in case of business sector, they are running organizations and taking up challenging steps.
We all know about Limeroad, which is an online marketplace owned by A.M. Marketplaces Pvt Ltd. But, do we know who is the founder of Limeroad company? A woman named Suchi Mukherjee, a successful Indian business woman. She is one of the founders and CEO of Lime Road.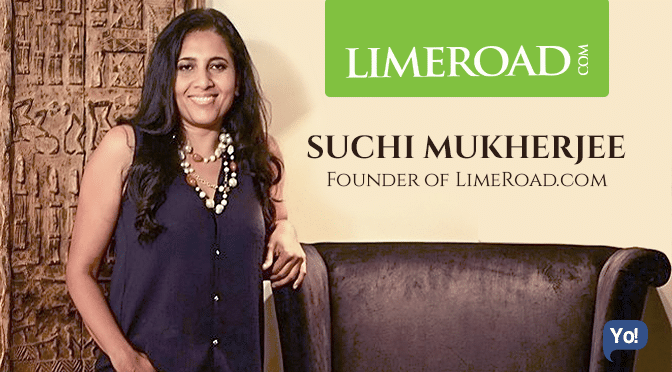 Born: 1973 (age 47 years)
Education: Bachelors in Arts with specialization in Economics and Maths from The University of Cambridge and a Master's degree in Finance and Economics from the London School of Economics.
Organization founded: LimeRoad
Suchi Mukherjee was among the 15 women voted for 'Rising Talent – Global Leaders Under 40' at the World Women's Forum in Paris in 2010, for her contributions in scaling businesses encompassing consumer technology.
Limeroad
Limeroad, the company's name is inspired from Grand Trunk Road. It's the first women's social shopping website, that deals with clothing and a wide range of accessories related to women, men and kids. In the beginning the company started selling only women stuff, later Suchi Mukherjee extended it towards men's and kids wear including home, decor and kitchen stuff. Many products are available on Limeroad.com with less cost when compared to Market price.
Founded: 2012
Founders: Suchi Mukherjee, Prashant Malik, Ankush Mehra
CEO: Suchi Mukherjee
Type of site: E-commerce (Online shopping)
Areas Served: India
Head Quarters: New Delhi, India
Limeroad launched a create and earn initiative, allowing its users to earn by creating a scrapbook from the products available on the website, there by categorizing them and sharing the scrapbook to their network or social media sites. Users will get a percentage of sale amount of all the items sold through their scrap book looks. Limeroad claims that it has more than 2100 active scrapbookers who have created more than 25,000 unique looks.
Growth and success of Limeroad under Suchi Mukherjee
She has also become E-commerce face in India. Today Limeroad has 50 million visitors on website or mobile app.
In 2016, Limeroad partnered with the Madhya Pradesh Government's M.P. Laghu Udyog Nigam (MPLUN) to promote handloom and handicraft products online in India.
Limeroad is competing with e-commerce companies like Amazon, Flipkart and Snapdeal, Myntra, Jabong, Roposo, Wooplr and Voonik.
Awards Earned By Limeroad
Won 'Coolest Start-up of the year' from Business Today (India) in 2015.
Won 'Woman of the Year – Digital Business] from INFOCOM in 2015.
Won 'Unicorn Start-up' Award from NDTV in 2016.
Nominated for 'ET Startup' Award from The Economic Times in 2017.