Do you know that the two wettest places on earth are in Meghalaya, India? Initially, Cherrapunji used to be the wettest place but its place was taken away by Mawsynram. Cherrapunji and Mawsynram are just 10 miles away in the same district of East Khasi Hills, Meghalaya. While Mawsynram receives 11,871 mm of rainfall, Cherrapunji receives 11,777 mm of average annual rainfall.
Mawsynram received 1 Guinness world record in 1985 for being the wettest place on earth. Whereas, Cherrapunji (Sohra) was awarded 2 Guinness world records for receiving the maximum amount of rainfall in a single year 22,987 mm between August 1860 and July 1861, and for receiving a maximum amount of rainfall in a single month 9,300 mm in July 1861.
What made these towns to become the wettest places on earth?
Mawsynram and Cherrapunji are at an elevation of 1400 meters on average and both these towns are near to the sea. Both the towns are surrounded by Garo, Khasi, and Jaintia Hills on three sides. At the north of Mawsynram and Cherrapunji towns, Khasi hills are stretched from east to west, so the towns are at the windward side of these mountains. The southwest monsoon winds are the principal factor for rainfall in the Indian subcontinent.
India receives nearly 80% of rainfall from southwest monsoonal winds. These winds travel through the Arabian Sea and Bay of Bengal. Northeast India receives southwest monsoon winds from the Bay of Bengal. The northward movement of these winds was interrupted by Khasi hills. These winds carry more moisture from the sea and the hills in the north act as a barrier, resulting in an ascension of the moisture-laden winds. The moisture from the winds is absorbed by clouds and when the moisture-holding capacity of the cloud exceeds it results in precipitation.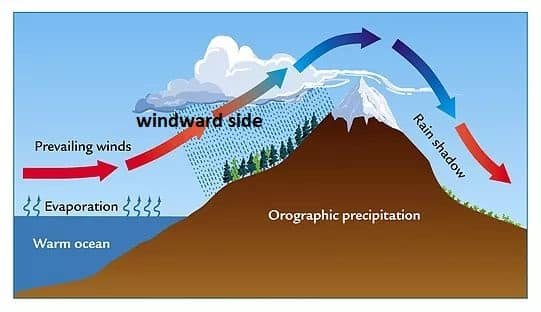 The northeast monsoon winds and the summer air currents also help in a similar way but at a micro-level. So, most of the rain received by these two places is orographic rainfall. The subtropical highland climate keeps the temperature below 20 degrees C. Monsoon stays in these regions for nearly 10 months and in Cherrapunji it might not rain all day but will rain every day.
Scientists proved that the rainfall pattern in these regions is showing a decreasing trend because of changes in the temperature of the Indian ocean and deforestation by humans. Nearly 104.5 sq. km. of vegetation was lost per year in Northeast India. This is mainly because the farmers of the Northeast follow the practice of Jhum cultivation (shifting cultivation).
Also Read