After the drastic incident occurred due to gas leakage in Bhopal, 1984 many people have lost their lives and caused several damages to families. From then on, Several precautions has taken by Gas factories such that people should not get affected. After many years, the same kind of horrible incident has happened now in Vizag.
This incident has Occurred at LG polymer industry which owned by South Korean LG Chem. which manufactures Polyester and Co-Polymers. When this gas has spread around 5 kms of radius with its wind intensity.
People nearby Villages named RRV Puram, Venkatapuram, Kamalapuram, and Padmapuram has got Unconscious and felt on roads. Around 2:30 a.m. gas got exploited when people are in asleep. As soon as the news got spread, an Evacuation drive has reportedly started by police authorities. Around 11 deaths and 5000 people are undergoing treatment.
Doctors about Styrene Gas
"There are around 50 dangerous gases in the world and this Styrene Gas stands in 24th place. Whenever this gas spreads, people will get the sweet smell and if the person intakes it more, his central nervous system will get damages. It is neurotoxic and there is no anti-dote for this. Only the solution is the patient should get supplied enough Oxygen. So, enough Oxygen cylinders will be available for the patients," said by Dr. Vishnun Rao in TV5 News.
"Styrene is a liquid and when it is at 145 °C it changes into gas and dangerous when inhale causes pancreatic cancer according to the studies," said by Dr. Gangadhar.
Short-term effects:
1. Irritation to the eyes, skin and nose.
2. Gastrinomal effects.
3. Respiratory effects.
Long-term effects:
1. Depression.
2. Headaches.
3. Hearing loss, central nervous system damage and kidney cancer.
For Animals:
This is sad to hear that many animals have lost their lives by vizag gas leakage tragedy. This affected cows, hens, dogs, goats etc. Hearing loss has been observed in animals exposed to a very high concentration of styrene. According to the sources, Animal studies have shown that inhalation of styrene can cause changes in the linings of nose and damage liver. However, Animals are more sensitive than humans for the nose & liver effects.
Preventive measures for people around the Affected zone released by GVMC (Greater Visakhapatnam Municipal Corporation) and Vizag Police.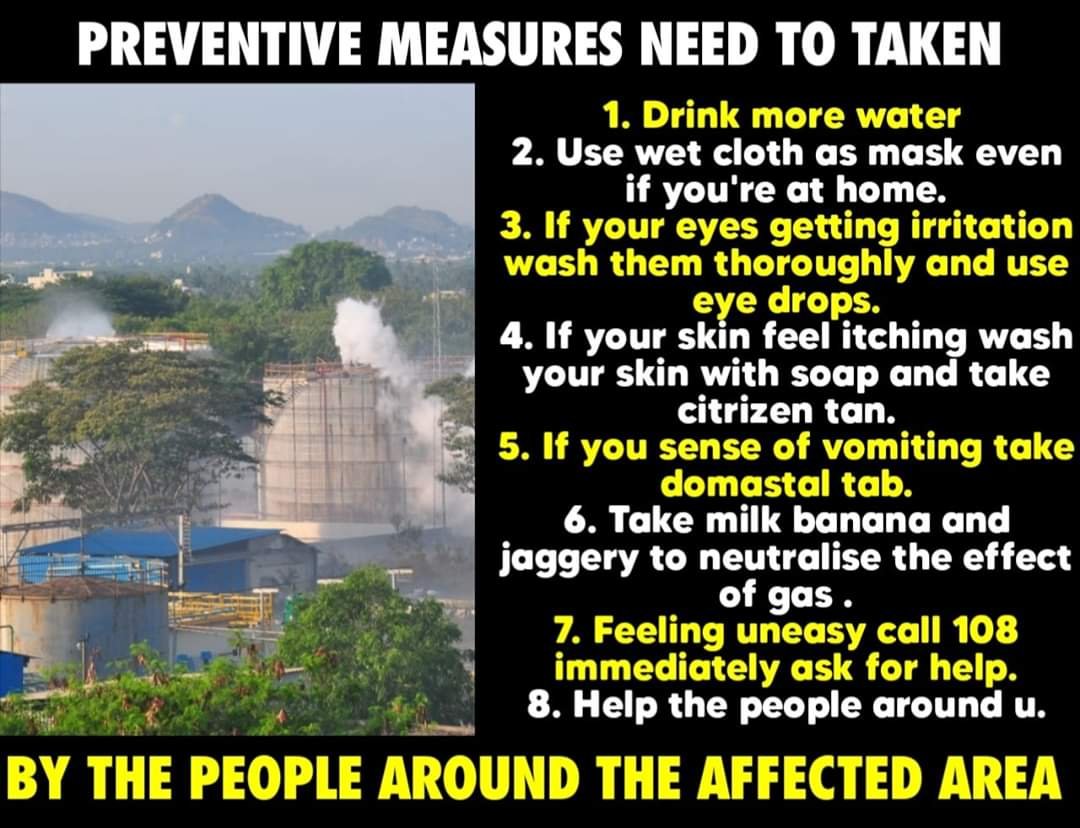 "Chemicals from Gujarat to be flown in special aircraft as a part of measures to contain damage due to the gas leak in Vizag," said by Union Minister of State for home G. Kishan Reddy.
Visaq gas leakage This is the worst gas leak in history.