Desert Power
Dune: Part One is an epic sci-fi drama, adapted from the 1965 novel by Frank Herbert. Directed by Denis Villeneuve and written by him, Jon Spaihts and Eric Roth. Produced under the banner of Legendary Pictures and distributed by Warner Bros. Pictures, it was released on the 22nd of October on IMAX theatres and HBO Max simultaneously. Timothee Chalamet, Oscar Isaac, Rebecca Ferguson and Zendaya have starring roles, with a brilliant supporting cast from Jason Momoa, Josh Brolin, Javier Bardem and Stellan Skarsgård.
To simply explain the plot of Dune would be near impossible without spoiling or delving into details, but here you go.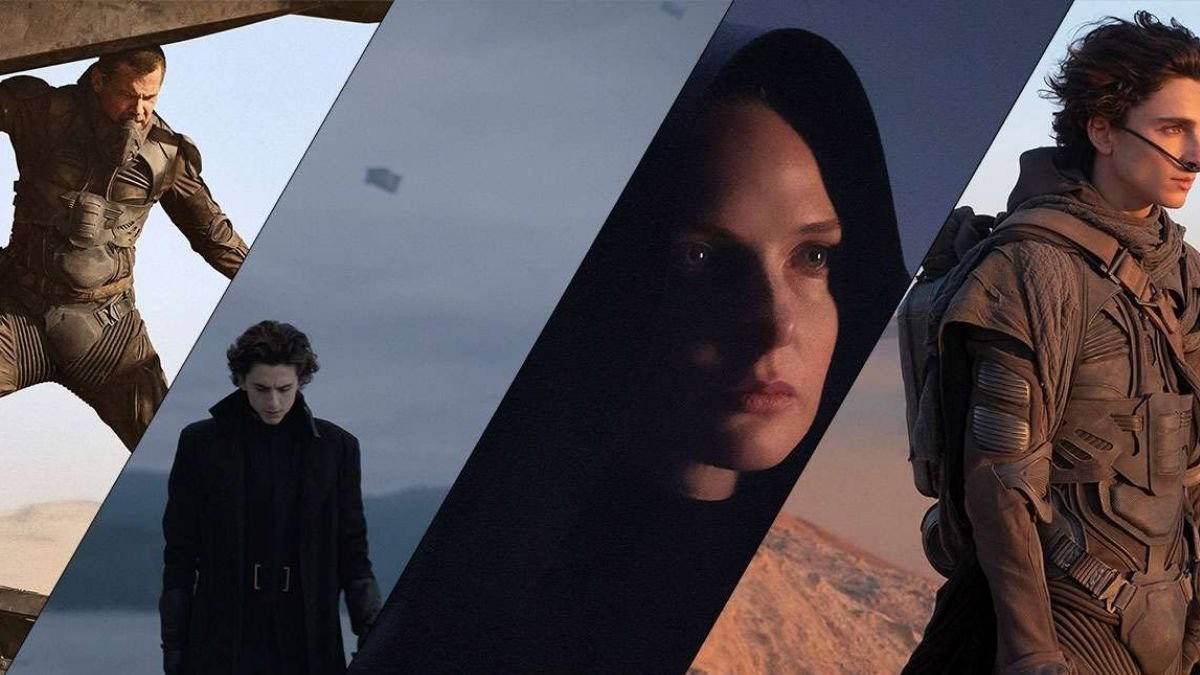 Plot
Dune trails the rule of the House Atreides on the desert planet of Arrakis, where the native Fremen are in revolt. The world is now in a dystopian setting, with a kingdom ruling over the various planets where different clans rule. Arrakis is native to Fremen and giant sandworms called the Shai-Hulud. Arrakis is rich in 'spice', which needs to be harvested, and is important for interstellar travel as fuel. It is also a planet of deplorable climate, sand dunes and high temperatures, thus making it dangerous for anyone to live except the natives.
The Duke Atreides' son, Paul, has visions of a girl on the planet Arrakis, and dreams of scenarios of death and destruction. Meanwhile, Paul's mother, who is a member of a society of supernatural power wielders called the Bene Gesserit, teaches him their ways and also develops a sinister outlying plot in the bigger picture. Dune is an intersection of all these storylines, with a couple of more details that are noteworthy.
Where things stand
There has been an ongoing and prolonged debate regarding cinema, is it art or entertainment. Primarily, all of it is expression, and be it if you're watching it to pass time or truly appreciate, it all comes down to what it evokes in you and if you are comfortable with that emotion. There are entertainers, like the live-action Godzilla vs Kong or the animated show 'What If?'. There are pieces of art, like the show Modern Love or the Green Knight. They are justified in their own way and we cannot debate if they are the other. Then there are the outliers, the ones that fit into both and work well as both an entertainer and artworks. Dune is just that.
With its masterful, and rather ambitious undertaking, Dune aims to be the film that David Lynch couldn't make. Often criticized that Herbert's Dune would never materialize onto the cinematic venture, Lynch sought to oppose that in 1984, but could not match expectations. Villeneuve claims to have tried to handle the monstrosity of Dune's story into two parts evenly, with him setting up the scene and background of the storyline in part one, and filling the second part with action and adventure.
What we liked
Where Dune succeeds is its portrayal of a completely different sphere of living in the future, but making it seem realistically possible. Villeneuve has done this before with Blade Runner 2049, and he does it again with a brilliant command over the screen and a simply beautiful overall experience. He makes it seem both alien and familiar and although there is a complexity in the story itself; it is not very clear as you watch the film.
Acting
The actors in the show were stunning. With raw talent like Chalamet, Isaac and Ferguson, we see how deeply interconnected they are both on screen and off, almost as if they were living together. The actors put you at ease, not just with the story but with the harsh reality that the movie is set in. Brolin, Momoa, Zendaya and Bardem also carried the show, delivering just what was required of them without overdoing it.
Cinematography and Editing
We called Dune an artistic highlight reel majorly for the work put into cinematography, editing and sound mixing. Greig Fraser does a delightful job in transforming his setting into Arrakis and absolutely smashes it with the use of natural lighting and extensive green screens to film the rest. He and Villeneuve scouted locations personally to limit the VFX in the film, but even when they used artificial shots, it was mesmerizing to watch. The film was shot to be viewed on the big screen in IMAX, and also features a mix of software to project many stunning visuals we see in the film.
The same goes for Joe Walker, who was the man for editing the film. A considerably tough job as it reflects in the film itself, Walker was involved in putting the sequence together naturally, so that the audience is not out of touch with the reality while watching Dune.
The genius of Hans Zimmer
The background score in Dune was simply phenomenal. Hans Zimmer, who has previously delivered breathtaking scores with Inception, Interstellar, Gladiator and The Lion King, hits hard this time with Dune too. He does not disappoint with his method either, scouting natural sounds in Utah and other desert areas to capture sounds and also infusing modern and organic themes. It was transporting for a viewer, almost as if we were watching the story unfold, floating above with the air. It was definitely a lasting impression of what the movie stood for.
One thing we found on the negative side was how slow the film really is. It sets up a lot for sure, but there are moments where it feels like dialogue is necessary or the scene itself is dragged out. The reasons for letting them in would not be justified until the next part comes out, so let us hold on to find out.
Why watch Dune?
Dune is an attempt to bring the magic of books onto the cinematic screen. The director plays his role; the actors do theirs, the crew theirs and the musicians theirs. It is a careful interplay of politics, sci-fi and revolution, and is carried by each of the people involved playing their roles. Although the first part leaves us questioning with a ton of things, Dune feels like it's onto a grand ending as set up in this first installation, and hopefully would not disappoint. If you want to experience what cinema could feel like as a piece of artistic entertainment, rush to your biggest IMAX and experience Dune in all its glory. And for all those who are a sucker for a good old coming-of-age comedy drama, check out Superbad or for a light hearted wholesome watch, Ted Lasso is the way to go.