Pandemic has cautioned all of us to take preventative measures to fight the infection. Hence clothes being the biggest carriers of microbes. When we visit outdoors, we make sure that those clothes are given for a wash or laundry. Did you know laundry detergent makes your clothes 100% clean but alone is not enough to kill the harmful germs? Laundry industry has lacked creativity and innovation until it crossed paths with Faibr-X.
Nanochemiqs India's leading Nanotechnology Company developing antiviral solutions to strengthen business and people determined to overcome current and future challenges. In association with Dhobilite, In 2020 NanoChemiqs launched Faibr-X.
Faibr-X Delhi based start-up an invisible yet effective shield provides the similar way of care for your clothes as you give to your skin or hair.
An element that significantly eases your life and protects you against microbes, bonus it is environmentally friendly too. Behind this innovation, an amazing team comprising passionate entrepreneurs from different backgrounds. Sasha Bose is a law graduate from Indian Law School. Pune and co-founder Gaurav Kumar are associated with the chemical industry for a long time. A vision to provide health benefits and well-being to people with the efficient use of technology.
They brought anti-bacterial and anti-fungal fabrics that will help build stronger immunity levels with a twist of reducing bio waste hazards created using PPE kits, masks, etc. Faibr-X provides 100% efficient fabric that helps to stop the spread of viruses. To build a trust in the consumers, they provide proof issued by NABL accredited labs accessed through smartphones.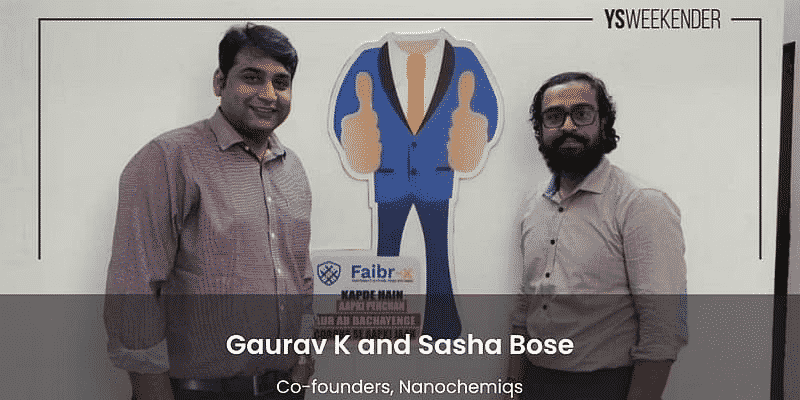 The Process
Faibr-X provides a specialised service to your clothes of any type of fabrics.
The start-up has dry clean and laundry partners for sales and business. People drop their clothes at a collection point at one of the cleaning services from where it is collected by the Faibr-X team. The start-up processes the customer requirements and returns them to the partner in line with delivery.
The partner service then accordingly processes the dry cleaning and laundry. People can access the service either by visiting or channel partner stores and calls and emails are always available too.
Faibr-X also provides mosquito repellent fabrics too. To keep the young children and senior citizens away from vector-borne diseases. It uses Nano technology to impart protective nature to the fabric against viruses and bacteria. The protective finish added to the fabric is done at a Nano level. This allows the garment not only to be protective but also long lasting.
The Faibr-x unique treatment services comprise antiviral and anti-microbial therapy that is efficient in destroying all bacteria, germs, and viruses, including the SARS-CoV-2 virus. It claims to contain anti-stain and anti-odour technology that is specifically intended for children's school uniforms, workers' casuals, formal attire, linen, premium silk, and other everyday apparel.
It also provides mosquito repellent for children's clothes, defence personnel, and travellers, as well as temperature control and air purification for linen, carpets, upholstery, car seat coverings, quilts, and blankets, as well as fire protection for worker's uniforms, defence uniforms, and other materials that are prone to catching fire.
Looking Ahead:
Faibr-X, an initiative by futuristic approach, delivers something innovative as well as environmentally friendly. It's trying to reach every citizen and access counters where the consumer doesn't have to think twice. Faibr-X is actively tying up with grocery stores, medical stores, dry cleaners and apartment stores to act as a collection point.
During the service to Delhi NCR, and have plans to expand across the country soon. Clothes are used for covering their bodies and protecting themselves. They bring a new defined approach of clothing that helps us to protect from the harmful charms and ensures the well-being of an individual.
Faibr-X takes a step towards a future with an efficient use of technology that protects and safeguards a secure life. Read more stories, only on Crunchstories.