Lake Natron is the deadliest lake in the world. Do you believe that a lake that turns animals into ghostly stones by drowning into it? Do you know even if a human touch the water slightly will give the finest cuts which are very painful? How flamingos adapted such a scary environment in their lives?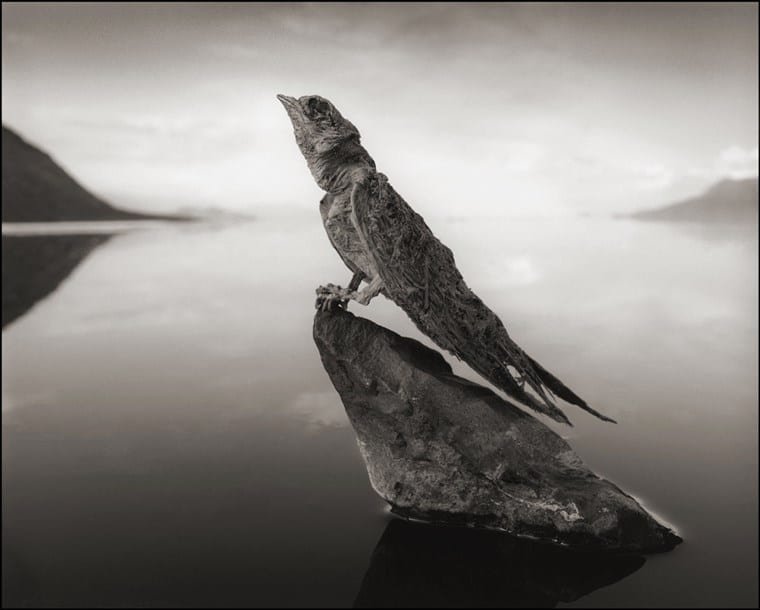 Yes, this is surreal. A lake which is situated in the region of Tanzania in Africa's Great Rift Valley is one of the most caustic lakes in the World. Not only the animals, but it is highly threatening for humans also. The lake is a max of 57KM long and 22KM wide. It doesn't run off into any oceans and Rivers.
Why the Lake Got Such Scary Water
Lake Natron is very close to the Active Volcano, OL DOINYO LEGAL. Volcano spews a rare kind of lava. They are rich in Sodium and Pottasium carbonate which are released into the water.
The water pH has been measured as high as 10.5 and close to that of Ammonia and Thousand times more basic than pure water. Temperature reaching up to 60°c can literally burn-off skin. The lake is reddish due to salt-loving microorganisms called Halophiles.
Scary Bird Statues and Flamingos Survival
According to the Wildlife Photographer, Nick Brandt documentary in 2013, the lake is so mirror-like and reflective the birds have drowned into it and lost their lives.  Many Birds images which are captured by Nick Brandt will leave you shocked.
But here comes this weird lives, This lake is home to the genus of fish called Alcolapia. This fish can live in any toxic environment and has higher internal pH. They can adapt to any situation and can live in this alkaline water.
Flamingos are the other birds which are adaptable for this lake Natron. They have tough skin on their legs to prevent burns from caustic water. They can drink salty, alkaline water because of salt glands in their heads. They filter out the minerals from their nasal cavity and pass pure water to the rest of their body.
No humans will dare to go near the lake in that region because of its caustic nature.