Due to the COVID-19 pandemic NBA general manager Adam Silver has been suspended the season games on 11th of March 2020 most of the players got tested positive for the virus and they have scheduled the season until further notice and now invited to Florida for matchup's.
On 26th of June, The National Basketball Association (NBA) has announced the complete schedule of the remaining games stated with "Seeding Games" per team.
They are going to play the:
22 Teams (selected from the Regular- season matchup's)
8 Seeding Game Per Team
16 – Team Playoff Field
NBA Teams:
Eastern conference: Milwaukee Bucks, Toronto Raptors, Boston Celtics, Miami Heat, Indiana Pacers, Philadelphia 76ers, Brooklyn Nets, Orlando Magic and Washington Wizards.
Western conference: Los Angeles Lakers, LA Clippers, Denver Nuggets, Utah Jazz, Oklahoma City Thunder, Houston Rockets, Dallas Mavericks, Memphis Grizzlies, Portland Trail Blazers, New Orleans Pelicans, Sacramento Kings, San Antonio Spurs and Phoenix Suns.
The Season is set to resume on 30th of JULY with all the participating eight teams (Seeding Games) and all the games were played across three venues ESPN Wide World of Sports Complex (Orlando)- an agreement with Disney. As the first opening night matchups was jazz take on with the pelicans at 6:30 PM ET, very crucial and interesting matchup was between the los Angeles Lakers and los Angeles clippers. Both teams have been in a race to win an NBA championship.
Key NBA dates to remember
JULY
07th-09th TEAMS TRAVEL TO ORLANDO
9th-29th TEAM TRAINING AND SCRIMMING
30th SEASON RESUMES WITH SEEDING GAMES
AUGUST
15th-16th PLAY- IN GAMES
17th PLAYOFFS
31st CONFERENCE SEMIFINAL BEGINS
SEPTEMBER
15th CONFERENCE FINAL BEGUN
30th NBA FINALS 2020
OCTOBER
13th LAST POSSIBLE FINALS DATE
All games can be scheduled and telecasted on national television for TNT, ESPN, ABC and NBA TV for the "seeding games"
Season restart–schedule (seeding games):
Here is the full schedule for NBA season as per @NBA seven games per day will be played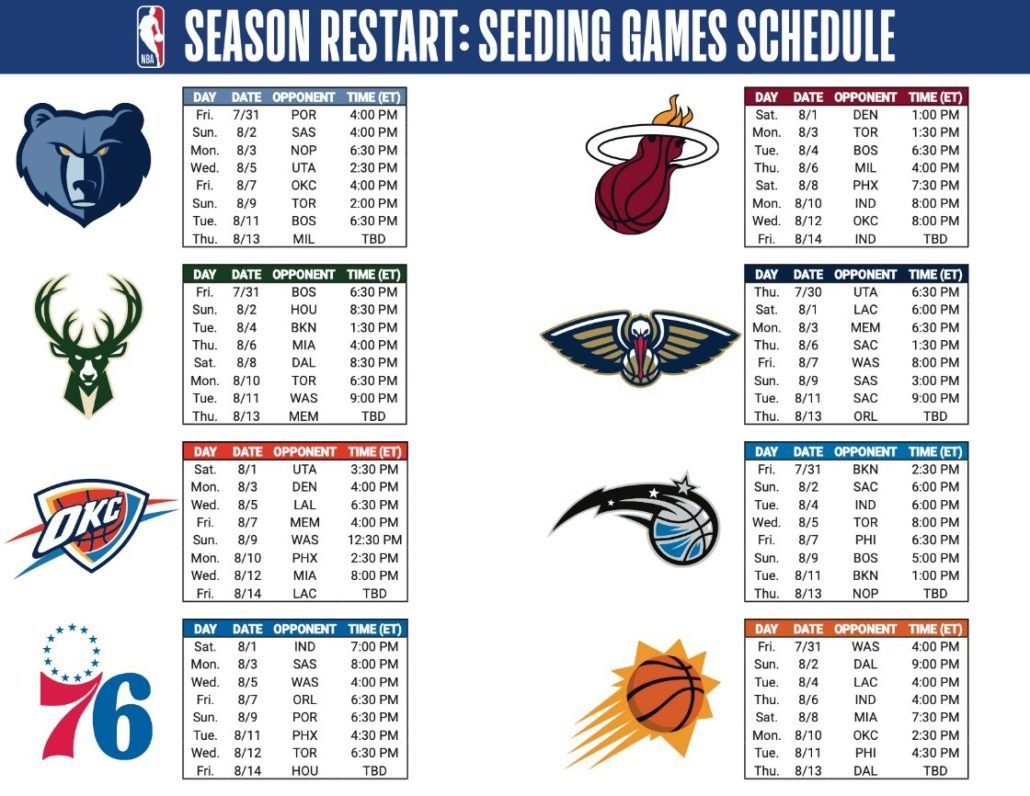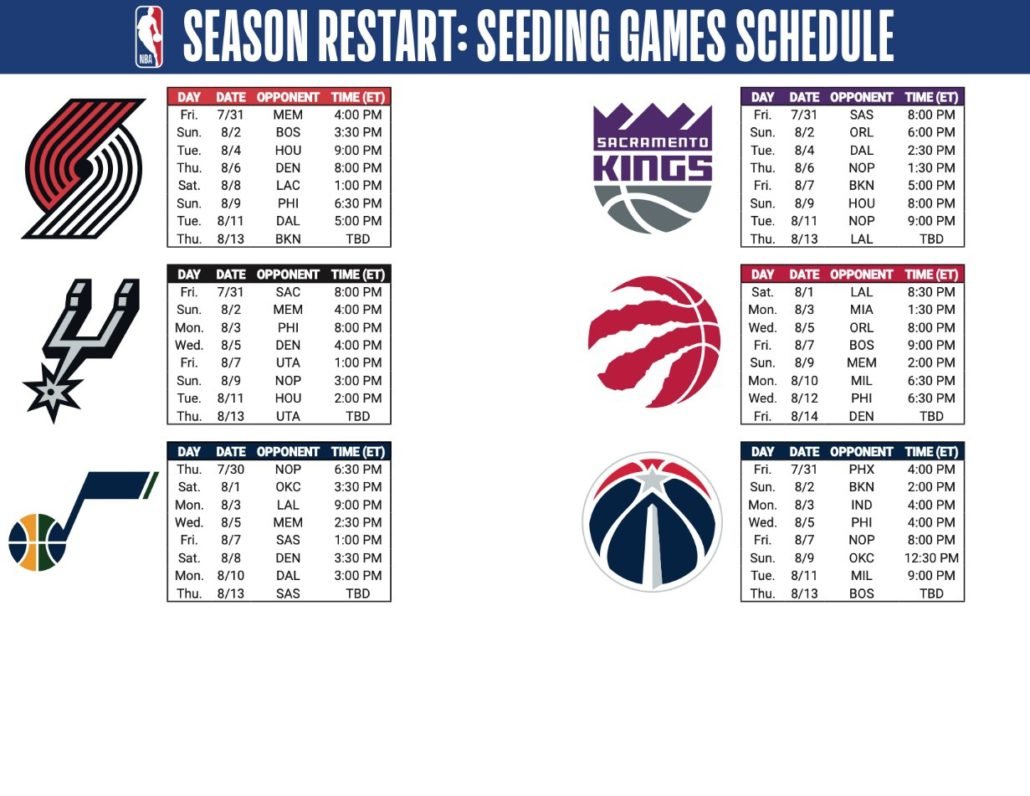 Playoff qualification:
All the seven teams in each of the conference will be taken and combined with the winning percentage which includes season games+seeding games.
To earn eight playoff seed: The eight seed should have more than 4 games ahead of ninth seed in the conference.
Play-In Tournament: If the eight seed is four games less ahead of ninth seed in the same conference.