In the fight between the militants and security forces, over 48 houses were destroyed. Every time the security forces in Balhama, Kashmir chase the militants, they hide in any of the local houses, and the security forces had to destroy it to kill the militants. No locals have been harmed till now, but their houses have been totally destroyed without their fault.
The biggest loss in these fights has been faced by a Kashmir writer, Ghulam Mohammad, from the same Balhama village. Ghulam Mohammad started writing poems from the year 1990. He wrote many poems fighting social issues and stored them in many books because all of them are handwritten. On 16th May 2018, he lost his heart touching works, he also lost his home which he was living since his childhood.
What happened on 16th May 2018?
Same as every day, Ghulam Mohammad was writing a poem, this time against the dowry system. A group of militants knocked on their door and rushed inside. The militants want to hide in Ghulam Mohammad's house as the security forces were behind them. The militants asked Ghulam Mohammad to forgive them in that panic situation because every time the militants hid in any property, the security forces will destroy it to kill them.
Ghulam Mohammad was asked to leave his home along with his family as the security forces can come at any time to destroy the property. He along with his wife, daughter, and two sons ran away from his home taking absolutely nothing with them. Ghulam Mohammad with his family went 200 meters away from his home and took shelter in his neighbor's home. After some time, he listened to a blast and confirmed that he lost his home.
Ghulam Mohammad also said that he was speechless not because he lost his property, but he lost his 30 years of his hard work. Writer's character can be determined by the way they write, so he lost his identity that day.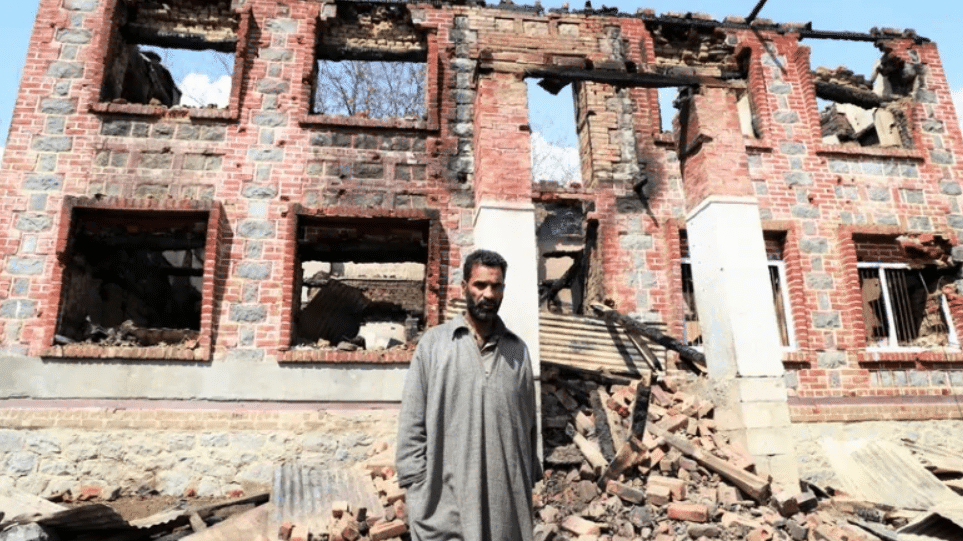 Like Ghulam Mohammad, every house which has been destroyed in that village has a story, has pain, and a great loss.
Staying in borders would be the toughest life we can see. Hope the security forces find the other way to catch the militants and stops destroying the public properties.