The Suicide Squad, written and directed by Guardian of Galaxy Director James Gunn, made it into the big screen on 5th of August. Although it's not a complete sequel of 2016 movie "Suicide Squad", we get to see a few of our favourite characters return in this movie.
As the Guardians said, "The Suicide Squad ain't your daddy's superhero movie". We totally agree. This movie is full of bloodshed, drama, graphics, and you have a lot more to look for.
The movie opens with a rather similar story line. We see a bunch of super villains who get time off their prison sentence if they complete a top-secret government mission.
But the most interesting part was the writer killed off almost all the members of the first selected team and then we got to meet our main characters of the movie. Unlike the villains fighting an ancient witch and her brother, we get to see a giant starfish. Yes, you read it right. We are fighting with a giant alien super intelligent, zombie making starfish.
The main characters include our all-time favourite super villain, Harley Quinn, Bloodsport, Peacemaker, King Shark, Polka-Dot Man, and Ratcatcher, along with Colonel Rick Flag. The second Task Force X entered the South American island nation of Corto Maltese undetected to erase all traces of a secret project named "project Starfish".
Now the interesting part, unlike the last movie, where everyone is dead scared of Amanda, we see her subordinates actually revel against her. They knocked her unconscious and actually helped the Task Force save the people of the island.
Let's talk about what we felt about the movie. All the casts are well-chosen, and everyone does a great job on their characters. Idris Elba, playing the role of Bloodsport, is one actor who can make his character watchable and interesting even in a dull movie and Harley Quinn. We have no words for her. She really played the role of a psychotic villain, just as shown in the late comic books.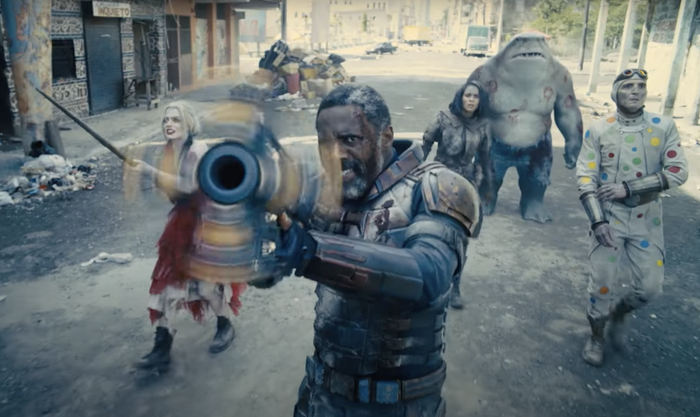 We also see Daniela Melchior as Ratcatcher. Her character is so sweet with a big heart that you actually wonder how she ended up in prison and in this suicide squad.
The story particularly focuses on her relationship with Bloodsport. Unlike the previous movie where we really understand that the characters are villains, in this movie we really wonder whether the new characters are actually bad or just victims of circumstances that we love. Also, we really like the animation, the bloodshed, and the atmosphere of the total movie.
Although the movie was very well written, it would have been better if they actually gave us some back story about how or why they are selecting these villains randomly and why they are sent to this mission.
It almost feels like they rushed through the first part of the movie. And with not too big characters, the writers could have done a lot better work with their backstories. The character of Bloodsport was almost similar to Deadshot of the first movie with a not so good father with a daughter who keeps him sane. As for Peacemaker, King Shark and Polka-dot Man were really just supporting roles and nothing special.
This is the beauty of a superhero movie; we can't just say the movie is bad or good in any terms other than entertainment. And as for this movie, we say it proudly: the movie is entertaining and keeps you on the edge of your seat with its amazing storytelling skill.
Action with humour is the best combination, and we don't ask for anything more. So, don't wait any longer and start watching "The Suicide Squad" on repeat.