Tollywood Hero Vijay Deverakonda has started a Non-Profit Organization in April 2019. The organization started with many dreams and goals for the future.
Training students to the core to get employment is the main motto of the organization. The founder Vijay Devarakonda has revealed that he will support 1,00,000 students from Telangana and Andhra Pradesh for training to get their first job.
The organization's first batch was of 50 deserved students from various villages. They completed the list in November 2019. The founder has also stated that 2 of them have already got the offer letter and the remaining 48 students will also get it soon.
We hope the founder's dream to support and train 1,00,000 students will come true and we pray the founder Vijay Deverakonda will get the power and the courage to support more students than his dream.
The founder Vijay Devarakonda has a motivational message for all of us: Apart from the program to train the students to get their first jobs, the foundation has also started a program called Middle-Class Fund (MCF).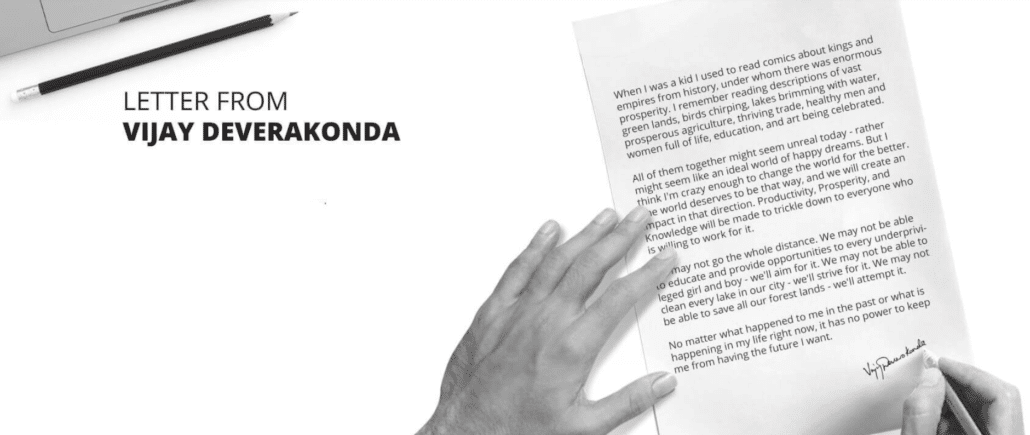 The MCF has come up with strong intentions to support the middle-class families in the COVID-19 crisis. We all were unprepared for the crisis and no one would expect these situations in our lives.
Many families suffered even to pay up the rent in this crisis and many families who were doing good before even ran out of ration. But the MCF from The Devarakonda Foundation has served many and will serve many.
The founder Vijay Devarakonda has also pledged to donate 1 crore rupees to the organization. The MCF supports the Middle-Class families with the ration and no direct cash will be provided. The process also has some conditions.
Let us check the conditions:
· The maximum allocated amount per request is 1,000 INR only.
· They can raise only one request from one household.
· They can purchase only the ration and essentials mentioned on the website
Note: They set the conditions up so that the organization can help the maximum families in the crisis.
To know more about MCF and to get help click on the link below:
https://thedeverakondafoundation.org/mcf.html
https://thedeverakondafoundation.org/
Team Crunch Stories request you all to share this with as many as you can, because we never know who is in need, and we may help them in this crisis.