Have you seen anyone carrying a heart with them ?? Yes, there is a lady who carries a heart where ever she goes. lets see what her story is …
Her name is Selwa Hussain, Age 39 years. Her husband's name is AI. They have a five-year-old son and 18-month-old daughter. Their hometown is London in Britain.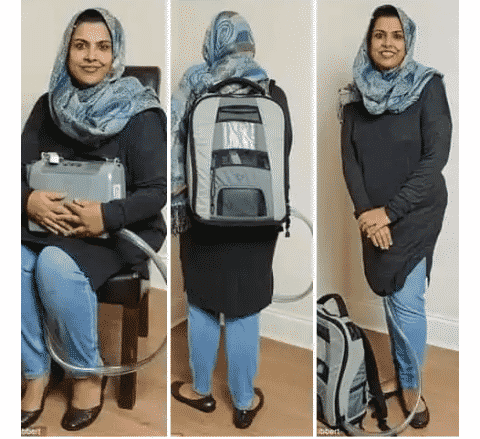 But recently Selwa Hussain had a severe heart ache while travelling in the car. Difficulty in breathing. Immediately, their family in Clayhall rushed to the doctor. She was suffering from the breath. From there, Selwa was admitted to a local hospital. Heart tests have revealed sensationality in the report. She was diagnosed with severe heart failure.
Selwa Hussain was admitted to the world famous Harefield Hospital because of the heart failure problem. Cardiologists have worked hard to save her life. Finally, she concluded that her heart would not work It was decided to set up the artificial heart. After her husband agreed with Selwa Hussain Everything is ready for the operation. After that, the heart was removed from the selwa's body and the artificial heart was set.
The artificial heart was set up in a bag by the London doctor. There are two batteries, motor and pump. From it two pipes go into the body from her chest. With the help of a motor in the bag, the air should be pumped continuously to the two balloons inside the body. The two balloons act as heart chambers. From there the blood is pumped to other parts of the body. The artificial heart is set to beat 138 times per minute.
The motor is always running because of continuous pumping. That's why the motor sound is heard from the backpack of Selwa. If the battery is charging, change immediately. It should also be changed in 90 seconds. Otherwise the pumping stops Blood supply to the body is stalled. That's why she always has two batteries. Once one is over Connects to another. At that time, the second charge. Wherever Selwa Hussain goes, she takes the bag with her. Selwa's husband AI is also accompanies her all the time.
Do you know how much this artificial heart has cost? 86,000 euros.. That is, Rs 78 lakhs in our currency. It is just the cost of artificial heart. Operation, other costs extra. The medical team led by Diana Gracina Sage and Andrew Simon at Harefield Hospital worked for about 6 hours and underwent heart transplant surgery. Selwa Hussain lives with the help of artificial heart. Doctors said that the second person living with artificial heart in Britain is Selwa. Earlier in 2011, similar surgery was done at Papworth Hospital in Cambridgeshire.
Also Read :
Dhanush bags the Netflix's most expensive film ever "The GrayMan"
Vishal Contesting in the TamilNadu Legislative Assembly Election?